July, 2010 Archive
July 11th, 2010 |
Breaking Dawn
|
No Comments »
Tags:
Fan Made Posters
July 11th, 2010 |
Breaking Dawn
|
No Comments »
Summit exec says the final 'Twilight' movie's release date is 'still the source of discussions.'
In June, Summit Entertainment announced that "The Twilight Saga: Breaking Dawn" will be released as two separate films, with the first part arriving on November 18, 2011. Though no release date for the second part has been announced, the conventional wisdom has been that the second part would follow in the summer of 2012.
Not so fast. Summit distribution chief Richie Fay told MTV News that no such decision has been made and that the studio is still exploring multiple release dates, not just ones in the summer.
"We've targeted a number of dates, and we have yet to determine when it will happen," Fay said. "We haven't even determined that it will be the summer. It's still the source of discussions."
Of course, studios always explore various release dates for pictures, especially established blockbusters, and the fact that Summit hasn't committed the second "Breaking Dawn" to the summer season shouldn't be mistaken for confusion or indecision within studio headquarters.
But the 2012 summer movie calendar is rapidly filling up, not necessarily with films that widely share an audience with "Breaking Dawn," but with established franchises or properties in their own right. That May will offer "The Avengers," "Madagascar 3″ and "Men in Black 3," while June delivers a "Star Trek" sequel. The rebooted "Spider-Man" has already nabbed the July 4th slot (occupied this year by "Eclipse"), followed closely by another "Ice Age" and a third "Batman."
Surely there's room here for "Breaking Dawn," but Summit now has experience releasing "Twilight" movies both in the summer and the fall. And, as Fay says, the studio might not be ready to pick a season for "Breaking Dawn" until "Eclipse" finishes up its theatrical run.
"We might have a preference when we see where 'Eclipse' ends up," he said of choosing one season over another. "It certainly might color our thinking, but we're comfortable with either place. Right now, it's a bit early in that stage of planning."
July 11th, 2010 |
Twilight News
|
No Comments »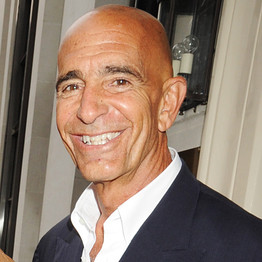 This is one we would never have predicted. It's a fascinating read.
"Tom Barrack is one of the biggest real-estate deal-makers in the world. His investment firm, Colony Capital LLC, has raised $16 billion from pension plans and other big investors to buy properties like gaming company Station Casinos Inc., Michael Jackson's Neverland Ranch, and possibly even Walt Disney Co.'s Miramax movie studio.
But recently, it turns out, Mr. Barrack has also been doing some soul-searching—thanks toStephenie Meyer's popular vampire-novel series, "Twilight."
In a July 2 memo encouraging his employees to consider outside points of view—you can read it in full at the end of this post—Mr. Barrack describes a lonely evening on a yacht in Turkey after a cancelled business meeting. In the yacht, Mr. Barrack writes, he came upon a book on which "were written the words that strike terror in the hearts of every macho, red-blooded male…TWILIGHT." He goes on:
As I sat there with nothing to do the book kept taunting me. I began to think that there must be something I don't understand. What could it be? What is it all about? Women don't just read these books, they live them. They become each paragraph. I picked it up, but then immediately dropped it like a hot coal. What if someone saw me reading this? My macho reputation would be finished! I would be kicked out of the bench press section of the gym. My polo compadres would send me packing to the pony rides and my surfing buddies would exile me to the kiddie pool.

But it was a long night and there was absolutely nothing, and I mean NOTHING else to do. Long story short—not only did I read Twilight, I read the other two as well!! I was fascinated, captivated even. However, what intrigued me was not the same thing that hooked the millions of women whose lives and had been changed by this series, but something else entirely.
Mr. Barrack argues that the "anticipation" in the romantic relationship between a teenage girl and a vampire has made the "Twilight" series compelling to millions of women.
Men, however, are all about the destination, the result, the speed and the outcome. The journey is merely penance to get to the destination. Which is why despite the vampires and werewolves, this book is kryptonite to most men."
See more on the Wall Street Journal. It's some of the best in depth Twilight discussion from a guy who "gets it".
July 10th, 2010 |
Twilight News
|
13 Comments »
The media continues to pit Twilight against Harry Potter, and asking fans to choose one or the other. Click the links to vote for your favorite "team" each round.
Round 1: Team Edward or Team Harry
Round 2: Team Bella or Team Hermione
Round 3: Team Jacob or Team Ron
Round 4: Team Alice or Team Ginny
Round 5: Team Victoria vs. Team Voldemort
July 10th, 2010 |
Robert Pattinson
|
No Comments »
Tags:
Leonardo DiCaprio
Robert Pattinson is the Leonardo DiCaprio of the twenty first century, post-Titanic (if you are old enough to know).  Being that Mr. DiCaprio was considered and STILL IS considered a heartthrob, there was immense pressure on his career.  He was recently asked in an interview if there was any advice he would give to the young Robert Pattinson.
Given that DiCaprio managed to get his acting career back on track after Titanic by taking two years off so the teen screams could die down, has he any advice for Twilight star Robert Pattinson, suffering the same kind of deafening and possibly career-crippling crazy love right now?

"I don't have any advice for him," offers DiCaprio, "other than, continue to work as hard as you possibly can when you get the opportunities to do other films.

"When you're a working actor who gets to choose your own material, then you've hit the lottery. Now it's time to maintain that — that's it. You work as hard as you possibly can on every opportunity that you get. But he knows that — I have no advice to give him. I'm sure he knows that …"
Full interview here.
July 10th, 2010 |
Ashley Greene
|
No Comments »
Tags:
EW magazine
Ashley Greene is absolutely rocking the fashion world. She is absolutely stunning in these photos. Check out more pictures from EW here.
July 10th, 2010 |
Breaking Dawn
|
2 Comments »
Tags:
summit entertainment

Summit sent us this press release:
SUMMIT ENTERTAINMENT'S
THE TWILIGHT SAGA: BREAKING DAWN
TO BE FILMED IN LOUISIANA AND VANCOUVER
Summit Entertainment's THE TWILIGHT SAGA: BREAKING DAWN will be filmed in both Baton Rouge, Louisiana and Vancouver over the next year starting this fall. The next chapter of THE TWILIGHT SAGA will be released as two separate films with the first of the two slated to be released in theatres on November 18, 2011.
Academy Award® winner Bill Condon will direct both films starring Kristen Stewart, Robert Pattinson and Taylor Lautner along with Billy Burke as Charlie Swan as well as returning members of the Cullen Family including Peter Facinelli as Carlisle, Elizabeth Reaser as Esme, Jackson Rathbone as Jasper, Nikki Reed as Rosalie, Ashley Greene as Alice and Kellan Lutz as Emmett.
The project, based on the fourth novel in author Stephenie Meyer's Twilight series, is currently being written by Melissa Rosenberg with Wyck Godfrey, Karen Rosenfelt and Stephenie Meyer producing.
THE TWILIGHT SAGA: BREAKING DAWN illuminates the secrets and mysteries of this spellbinding romantic epic that has entranced millions.
The third film in the franchise, THE TWILIGHT SAGA: ECLIPSE, is currently in theatres.
There you have it! Baton Rouge, Louisiana and Vancouver!